Asian Glories...
That's the name of the restaurant we went to on Friday evening, for a belated birthday celebration for Martinette. I have never ever ever tasted better chinese food in my life and I've had quite a lot... Superb!


The evening started with champagne... And after about 4 sips, a lemonade for me ;)
This is as good as it gets with these two... I thought Maurice was evil to take pictures of, but they're just as bad... :)
On the left, my most favorite dimsums in the whole wide world: sieuw mai. Steamed please, not fried... But all the others we had were very very good too.


How we left almost every dish: very very empty :)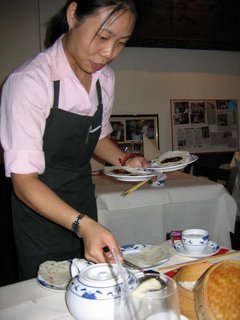 All the staff were very nice, very helpfull and helped made the night even more fabulous than it already was... Here she's preparing little pancakes with hoisin sauce and finely chopped cucumber and spring onions...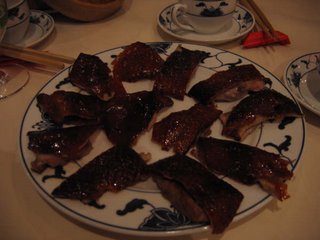 ... so we can put these crispy pieces of duck on them, roll them up and try to enjoy them very slowly! :) Delicious!!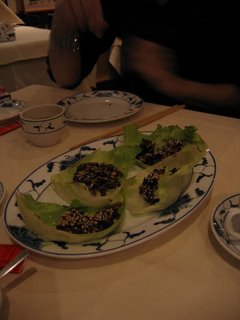 Nothing was wasted, from the left-over duck they made something with more hoisin sauce and vegetables and put that in some lettuce leaves, topped with sesame seeds. Gone in 60 seconds. :)

As you can see, I was thouroughly (sp?) enjoying every bite... In front of me you can see a cup of jasmine tea (several pots accompanied our entire dinner) and a plate of 'naaldbami', the best bami I ever had (and I'm not that into bami). It was handmade too and very good!


The specialty dessert of the evening was fresh Thai mango (so sweet!), accompanied by mango icecream (so good! lots of fruit and not too sweet!) and a bit of rice pudding made of sticky
rice with palm sugar, I think, topped with salted coconut cream (which we didn't like, but we didn't know we shouldn't have eaten it separately, it should have been stirred through the pudding... oh well...).

I know there isn't really an english translation for the Dutch word 'gezellig' and I don't think there's one for 'nagenieten' as well... Let me know if you know a good one, so I can change this text! :)
And this is Jenny, the owner of the place, who took very very good care of us this evening. And no, I'm not drunk (I was the 'Bob'), but I was very full and very tired and in need of a nap! :) Definitely a night to remember, not only because of the fab food, but the fab company as well! Thanks for a lovely evening, Neppie, Robbie en Maribella!! And Jenny, of course!
Love, Nancy
-photos courtesy of Mariëlle de Bruijn, whose camera works better in bad lightning conditions than mine ;)